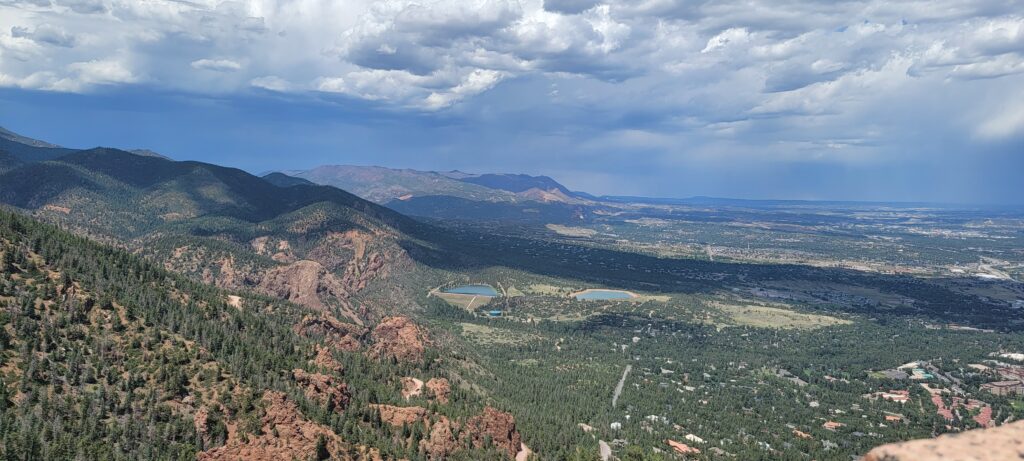 Being a tourist in your own state is weird. Like real weird.
This last weekend, my family and I traveled to Colorado Springs to visit with some of our closest relatives. We visited Colorado Springs last year and decided that this year, we would revisit the Springs and visit familiar and unfamiliar places. 
On Friday, we arrived to Colorado Springs. Our agenda was simple. Once we met with our family we would go to the Golden Bee then venture to Seven Falls and then plan on dinner. We met with our family, piled into the car, and headed to the Golden Bee. There, we all divulged in delicious meals like the marinated Mediterranean vegetable bowl, creamy chicken pot pie, pulled pork sandwich, and the classic golden bee burger. I had the marinated Mediterranean vegetable bowl and it was delicious. I highly recommend it! Next on our list was Seven Falls. At this point, we were following our agenda to a T. It wasn't until we went to the Seven Falls parking lot and got turned around when we had to rethink the rest of our day. Through some quick research, we headed to the Pro Rodeo Museum and then headed toward Helen Hunt Falls. While the day turned out to be unpredictable, we still made the most out of the day and had fun together.
Saturday came and we woke up, bright and early, and headed to the Cheyenne Mountain Zoo. Last year, we enjoyed our time at the zoo because of the dole whip and the fact we got to feed the giraffes. We went early this year at 9 am and it was pretty packed. When they let us in the zoo, a stampede of people headed toward the giraffes. While we were able to feed the giraffes but it seemed that they were not interested as thousands of hands flew at them with the leafy greens. We also found out that they no longer sold dole whip, which was sad. After walking around the zoo for two hours, we ended up traveling to the top of the mountain to see the Will Rodgers shrine or the Shrine of the Sun. If I'm being honest, I expected more than what was at the shrine, but I still enjoyed it. That evening, we then went to Frozen Gold, a ice cream shop in downtown Colorado Springs. They had crazy names for their ice creams, like Basic B or PB Puffy. I ended up getting their Gone Campin' ice cream which is basically a s'mores flavor. I loved it except I was missing the strong chocolate flavor. 
Then, on our last day, we traveled up Pikes Peak in the cog train. From other trips I've taken in a train, I was expecting this train to be just as spacious. It was not. I felt very close to the people who sat next to me and who sat behind me. My knees were touching with the people who sat across from me. But for an hour and ten minute trip, it wasn't bad. When we reached the peak, we threw on our jackets. Just a quick note, when you take the cog train, you have 40 minutes total up top before you have to go back to your cog train. So we made the best of it. We took pictures of the view, we ran inside to escape the cold, got doughnuts, toured the gift shop, and then walked back to our train in time. After another hour and ten minutes, my family and I traveled to the Black Bear Diner for lunch. My aunt and uncle told us that they had previously attempted to go to a Black Bear Diner, but were unsuccessful because of how busy it was. While we did have a twenty minute wait this time, it flew by fast and we soon were seated. Overall, I highly recommend that you try the Black Bear Diner. It is a dining experience that is super unique.
Traveling to Colorado Springs was a great vacation in my home state. While it does feel like I've seen everything Colorado Springs has to offer, I wouldn't mind revisiting it in a few years to visit the Cheyenne Mountain Zoo, eat at Black Bear Diner, or walk around the Broadmoor area. If you ever need a place to go, for a quick weekend getaway, definitely go to Colorado Springs!